A lesson learned from our ancestors on the benefits of mixing ages at summer camp
If you missed Step 1 – Transcending Supervision, Check it.
The segregation of children into age-specific groups has become so ubiquitous in our society that we hardly even notice it anymore. From the time children are born, they are placed into care with other children of a similar age. Whether it happens in school, or sports, or camp – the message that association with others of the same age is normal is reinforced again and again.
Thus, when I first encountered an article about mixed-age play, I was dubious. Why, if there were so many benefits to mixing kids of different ages, was society so rigidly structured for age segregation? I had the usual list of objections, as well. Wouldn't the older kids be bad influences on the younger kids? Mightn't they bully them? Would it even be fun for anyone involved to have all those young or old kids around, at completely different developmental stages?
Well, I was pretty set in my ways until I encountered
this now famous video
by Ken Robinson and the folks behind RSA animate. It shined a light on how crude it was to force children to move along together just based on the year they were born. I did a little more digging, and when I did, my opinion on mixing ages was changed forever.
I'd love to share what I've come across, and how it's helped us curb bullying at summer camp.
Prehistoric Man, teaching us yet again
The first article I encountered sold me on the idea of mixing age groups immediately – a brief article by Peter Gray in Psychology Today. He cited a combination of anthropological research and modern day research that I found absolutely fascinating. The first won't surprise you – our prehistoric ancestors had little use for age segregation, and there is no evidence that any society before the creation of the modern schools in the late 1800s that strict age segregation took place at all. The human race organized itself in mixed aged groups essentially forever, and then some well-meaning educational theorists in the 1800s decided to try something new. And we've done the same thing ever since, essentially without questioning it.
The next piece surprised me, though. Peter Gray went to the original Sudbury Valley School in Framingham, Massachusetts. Sudbury Schools are more widespread now (and we actually invited a Sudbury School up to our camp for a few days each of the last few years – they make ideal midweek retreat groups since they don't have classes!), but the original concept was truly groundbreaking at the time. Sudbury Schools basically do what we do at camp – except they do it all year long.
Now, I could (and probably will) write a whole 5,000 word post on the idea of just allowing kids to do summer camp all year long, but this post is specifically about something else, so I'll at least make a token effort at staying on topic 🙂 When Peter Gray went to the Sudbury School to research, he found what I believe to be a very important and surprising social structure. He writes:
We found that more than half of the social interactions
among students spanned age gaps greater than twenty-four months, and a quarter
of them spanned gaps greater than forty-eight months.
48 months! That's 12 year olds and 8 year olds. High school juniors and 7th and 8th graders. My mind immediately went to a negative place. Were these older kids warping the minds of the younger ones? Stealing their lunch money? In fact, the opposite was true. The older kids were taking great joy in helping the youngsters along. They seemed to feel a part of something important, and their biological impulse to nurture seemed stronger than the impulse to dominate. Thus, an important conclusion was drawn:
When kids of the same age are all lumped together, there exists a non-stop temptation for comparison and competition.
But when ages mix freely? The stakes go down dramatically. I'll share my observations from camp, as well as Peter Gray's observations from Sudbury.
How mixing ages benefits younger kids
There's a major issue when it comes to lumping children of the same age together and not allowing for them to interact with people outside this age bracket. It's something we're all loosely aware of on some level. Literally everyone who teaches about middle-school aged kids will talk about how girls tend to be more physically developed at this age, or perhaps more emotionally intelligent.. and yet, for some reason, we lump them in with people who we are consciously aware of as being not at the same point on the developmental arc.
When children are allowed to associate freely, they will organize their culture around the people who naturally get them. Kids are amazing at reading the cues of other kids – and form friendship groups based on similar interests, sense of humor, and emotional intelligence in incredibly efficient ways. Now, terrific friendships are certainly possible in age-segregated environments, but our job as camp directors is to increase the likelihood that this will happen – and allowing kids to choose from a wide swath of potential friends simply adds more possibility for a great potential fit.
Peter Gray also cites a much fancier term, which I love, called the zone of proximal development. He postulates that children allowed to intermingle across wide age ranges will almost always encounter challenges that are too complex or difficult for children of the younger age to accomplish on their own. When drawn into these challenging environments by mentors who have a vested interest in helping them succeed, a type of growth happens that is simply not possible when children are forced to only interact in groups of narrow age brackets.
I witnessed a beautiful example of this when the Hudson Valley Sudbury School visited us for the first time in the fall of 2011. I went down to their lodge to see the model of schooling I had read so much about in action, and walked into a room where two 16 year olds and a 9 year old girl were playing a card game. They were playing Magic: The Gathering. A rather complicated and nuanced game that you'd essentially never see a group of 8 year olds playing on their own. The young girl was obviously "out of her league" strategy wise, but the two older boys patiently corrected the young girl when she broke the rules or made an obvious tactical error. The girl lost terribly, but it was clear that her mind was on overdrive as she pushed herself to comprehend a game that was a little bit more advanced than she'd likely be playing on her own.
There were no adults around to facilitate the activity. No de-brief happened afterward. There were just two young men who wanted to play a game that's more fun with 3 people, and a young girl who wanted to spend time with them, and who was intrinsically motivated to try this difficult task in order to do so.
The applications for summer camp dawned on me – all the challenge course we needed for our younger kids was right in front of our noses: we just needed to turn them loose in safe environments with our older campers.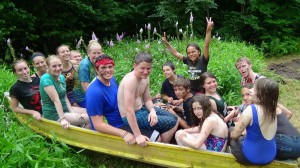 And we've seen this in spades. Particularly in our unstructured play area, older kids always seem to be finding roles for the younger participants. They're teaching them physics ("if you angle this PVC pipe this way, it won't knock over the milk crates), enhancing their ability to form consensus, and including them in complex tasks that they might otherwise not be a part of. In the picture to the left, you can observe how some older kids were determined to see how many people could fit inside of a rowboat. They realized that younger kids are eminently more qualified for a challenge like this, and recruited them avidly!
Which leads me to…
How mixing ages benefits older kids
There's something uniquely heartwarming about watching an older camper soften at something a younger camper does. There's something uniquely inspiring about watching an older camper who would not be called a 'leader' in the rest of his life take charge to help those less powerful than he is. I'd love to share stories of both.
We had a group of teenage girls at our camp that were, unfortunately, getting sucked into rather conventional "drama." They were saying not-so-nice things about one another behind one another's backs, and things were on the cusp of boiling over. We tried talking with them, we tried intervening, but it looked as though these toxic interactions were going to boil over onto the entire camp. And then an interesting thing happened. One day, walking up from the water front, a young girl walked over to this group of girls. She asked for a piggy-back ride. The girls, who had been talking about who-knows-what, stopped and looked down at her. "Sure!" One of them said. The younger girl giggled with glee and jumped on to the older girl's back.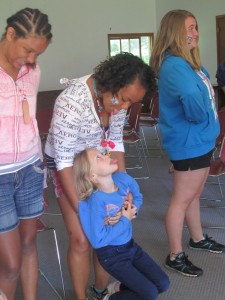 Seeing how much fun their friend was having, other girls from the younger girl's camper group ran over asking for piggy back rides as well. Pretty soon, there were 4 young kids getting piggy back rides, smiling as they bounced along. But they weren't the only ones smiling. The older girls were smiling as well – even the ones who weren't directly engaged in the fun. There's just something heartwarming about watching young children be nurtured (the science around our biological love for babies is very solid), that even the most cynical of teens can't maintain a facade of cool.
And it makes evolutionary sense, right? We wouldn't have gotten very far as a species if older people lacked the instinct to nurture younger people. Yet, for some reason, we've denied children the opportunity to nurture those younger than them for more than a century. Why?
The other story I'd love to share comes from a young man who had been bullied in many cases throughout his life. I'd prefer not to give too many details about him (in case he or his parents read this article), but let's just say I find him to be a remarkable young man who has overcome some real difficulties to turn into one of the most compassionate people I've had the pleasure of observing as a summer camper.
Anyway, this young man who had flirted with outcast status in much of his life came to camp one summer, and didn't fall in immediately with his peer group. They were interested in things many teenage boys were interested in, and he didn't seem to be. Over the course of a few days, however, he befriended 2 younger campers who had also suffered from a great deal of bullying in their lives. Being older, they deferred to him as their leader – and I'd often see the three of them engaged in all manner of fun and laughter. He was 16, and his companions were 13 and 10.
For the first time in his life, he had people who looked up to him. What greater learning outcome can we hope for at camp than to see we are capable of being admired?
But dude, what does this all have to do with bullying?
I appreciate your patience, if you've made it this far!
Peter Gray would point out that we, as human beings, have evolved to form social groups that are organized in a mixed-age fashion. I have observed that the balance that comes from the mixing of ages prevents bullying in a number of different ways.
For bullying to take place, there needs to be an imbalance of power, where the powerful people are inclined to bully the less powerful ones. When kids of the same age interact, the natural comparisons that take place may lead those who are physically stronger to assert their power over those who are physically weaker. The combination of the insecurity of the bully and no regulating force above him leads to an abuse of this power that has tragic consequences.
But imagine this same scenario in a mixed age group. If my observations are typical, older kids tend to want to nurture younger ones. Thus, the older kids are extremely unlikely to bully children who are much younger. A 16 year old has little to gain from establishing his dominance over a 9 year old. There is no social reward for cruelty of this kind – instead, it's seen as rather pathetic.
Meanwhile, the same 9 year old who may have engaged in bullying if only interacting with other 9 year olds is faced with a problem. He gets a sense of security from establishing physical dominance, and yet he is surrounded by people who are physically dominant to him. I've seen it time and again – instead of trying to bully those he deems beneath him (which is often met with scorn from the older kids whom he wishes to please), he instead attempts to meet his need for security by trying to appease the older kids. The older kids, flattered at his advances, frequently accept him in, and everyone benefits.
But what of the 16 year old who would seek to bully the other 16 year olds? Can't he just run amok?
I suppose he could, but it seems to happen very rarely. In the same way that older kids seldom talk about extremely inappropriate things around much younger kids, they also tend not to mistreat each other as frequently. I'd suggest that this is because older campers are also hard-wired to feel an increased sense of accountability toward the younger generation. They know that belittling someone or physically intimidating is wrong, and something inside most of them stops them from engaging in this sort of behavior when there are impressionable young people around to keep them accountable.
Mixing ages gives kids the chance to be a part of something important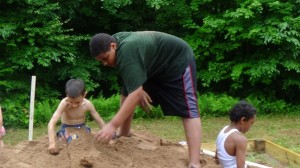 Here's the thing – kids of all ages want to feel like they are a part of something bigger than themselves. Young kids forever have wanted to tag along with older kids. Older kids, in turn, seem to welcome the opportunity to be a part of raising younger children. Especially when they have great counselors to encourage this behavior.
I know this to be true, because it happened to me. While I was bullied as a kid, I bullied others, too. I was just scraping to get by, socially, and I was more than willing to place someone below me to affirm my sense of self. You know when that all stopped?
The first time a counselor looked in my eyes and said, "James, you could be one of the best counselors this camp has ever seen." I didn't believe him, but I wanted to. And I wanted to show him that he was right. So the next day (and year, and years after that), I went out and tried to live up to that image of myself. The person who created the magic for others, instead of needing the magic created for me. Thankfully, I had the opportunity to put his claim to the test the next year as a leader in training. If I had been too young for that program, I may never have explored what that version of myself could look like.
I really benefited from the opportunity to give to those kids. And I'd like to think that they benefited as well. When I got a taste of what being a leader and a nurturer was like, I certainly didn't need to affirm my sense of self by belittling others.
If you missed part 1 in this series, you can go have a gander. It's about transcending what we've always thought of as "supervision."







by